Promotional Displays
The design team at shipmaster can develop a wide variety of displays & customize them to fit your needs.
Whether it's a floor POP, counter display PDQ, side kick, or custom display we have the creative team to design it right. Our creative design team will work with you from concept functional design, and our experienced account managers will follow the project through from creation to implementation.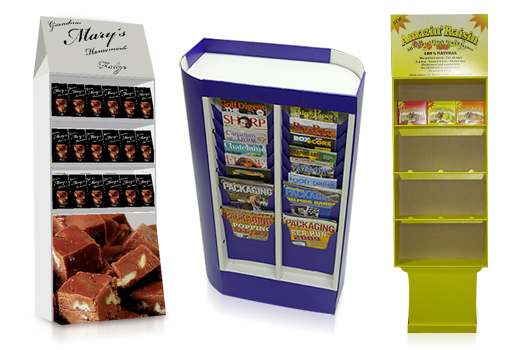 POP
Point of purchase displays are usually floor units in 3 parts (Header – Tray – Base) These displays are usually met with varying store requirements that make them fit within the retailer's floor space efficiently. Custom size and style can be achieved through intelligent design concepts.
PDQ
Presentation display quantity or (Pretty Darn Quick) displays are for fast merchandising of your products. These displays can be moved from store shelves to ends to counters with ease or even stacked to create a floor display. These displays are also restockable. The display trays can be layered on a skid or stacked to create pallet displays. Design layout is key to this style to get the most usability out of it.
Side Kicks
Side kick displays are usually POP Display trays that are multipurpose designed. These Trays will have slots to clip onto retail stores fixtures that they use on power ends. Most of these trays will still have a header and the ability to be used on a base to create a floor display. Some side kicks are strictly designed for end panel use only and will not work in any other application.
Pallet Displays
Pallet displays can be created in quarter half or full pallet configurations. These displays are built upon pallets usually 40 x 48 or 48 x 48. Full custom layouts are designed to maximize the floor space that it will be using up. Many times PDQ trays can be utilized in a stacking configuration to maximize use of the trays as once the display is sold down the unsold trays can be moved to shelves ends or counters so that a huge floor space is not being tied up with minimal product on it. Each retailer has its own strict limitations and recommendations on this type of display unit.
Dump Bin
Dump bin displays can be much more the just a dump bin. With their low height and size many can be designed to accommodate inserts to hold whatever product that you may have. Cut outs and headers can be done in ways to maximize the design appeal without adding more board costs. Many retailer like this style of display as it can be very multipurpose without complicated setups.
Full Custom Displays that do not fit into these Standards are possible but usually require full custom designing and retail approval.
Servicing: Toronto (GTA) and communities in Southern Ontario including:
Ajax, Alliston, Ancaster, Aurora, Barrie, Beamsville, Belleville, Bolton, Bowmanville, Bradford, Brampton, Brantford, Brighton, Burlington, Caledon, Cambridge, Concord, Cobourg, Georgetown, Grimsby, Guelph, Halton Hills, Hamilton, Kawartha Lakes, Kitchener, Lindsay, Markham, Milton, Mississauga, Newmarket, Nobleton, Oshawa, Peterborough, Pickering, Port Hope, Port Perry, Richmond Hill, Scarborough, Schomberg, Stouffville, Trenton, Uxbridge, Vaughan, Waterloo, Whitby, Woodbridge
CONTACT:
Shipmaster Containers Limited
380 Esna Park Drive
Markham, Ontario Canada
L3R 1G5
Telephone 1: (416) 493 9193
Telephone 2: (905) 474 1556
© Copyright 2015 - Shipmaster Containers Ltd