Retail Packaging
Retail Ready Packaging (RRP) offers value to your products, it's easy to identify, easy to open and can be placed directly on the shelf.
Retail Ready Packaging ( RRP )
Many Retailers are strategically requesting the use of RRPs. This type of package not only protects your product during transport, but also provides selling value as the package and contents are displayed on the store shelves with easy access & view to your consumers.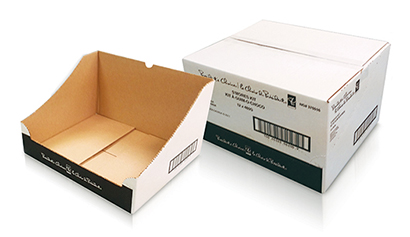 RRPs allow your products to be moved directly to retail shelves with minimal handling, while providing simple shelf replenishment and full use of available shelf space. Creative design is used to allow easy opening without compromising structural integrity of the package
Retail Packaging
Custom packaging that helps sell your product as well as protects it. Retailers want your package to hold up and look good while taking up the least amount of the shelf space as possible. Custom designs can be created by our design team using standard box styles & inserts to full custom die cut designs that will give your product the package that you need. Retail packages are printed with information like, required barcodes, product numbers, and government regulations. To help move you product quality graphic design needs to be done to design dielines. Printing methods can very and each have their strengths.
Flexo print designs are simplistic in the graphics and require proper trapping.
Litho print designs are extremely detailed and require high resolution images with clean vector files for type and layout. This type of print is usually printed on labels than mounted to corrugated sheets.
Screen print designs are not as sharp as litho but can be printed directly to board.
Digital Print designs are becoming more prominent with the ever increasing speed and quality. Digital print is not as sharp as litho yet and is a slower process, but you can achieve multi prints or SKUs such as flavors (Orange / Grape / Apple) in one pass and each package can have its own serial number.
Our team can implement the design and customize it to your needs.
Servicing: Toronto (GTA) and communities in Southern Ontario including:
Ajax, Alliston, Ancaster, Aurora, Barrie, Beamsville, Belleville, Bolton, Bowmanville, Bradford, Brampton, Brantford, Brighton, Burlington, Caledon, Cambridge, Concord, Cobourg, Georgetown, Grimsby, Guelph, Halton Hills, Hamilton, Kawartha Lakes, Kitchener, Lindsay, Markham, Milton, Mississauga, Newmarket, Nobleton, Oshawa, Peterborough, Pickering, Port Hope, Port Perry, Richmond Hill, Scarborough, Schomberg, Stouffville, Trenton, Uxbridge, Vaughan, Waterloo, Whitby, Woodbridge
CONTACT:
Shipmaster Containers Limited
380 Esna Park Drive
Markham, Ontario Canada
L3R 1G5
Telephone 1: (416) 493 9193
Telephone 2: (905) 474 1556
© Copyright 2015 - Shipmaster Containers Ltd