Sustainability
Sustainability has always been central to the nature of Shipmaster's business and to the way the company operates. Shipmaster Containers Ltd. endorses sustainability in its three forms: environmental, social, and economic. Here are some highlights of how we are achieving this.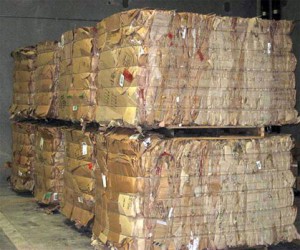 Environment:
Shipmaster Containers Ltd. manufactures all types of corrugated products, displays, shipping cartons and more. These are made from a renewable resource and from mostly 100% recycled content materials. Virtually all Canadians (96%) can recycle them and an estimated 85% are in fact recovered for further recycling. Corrugated is also compostable.
On an industry level, Shipmaster is a proud supporter of PPEC, the industry's environmental council. PPEC has a wealth of information on the environmental aspects of paper packaging in Canada, and we would encourage you to check out its website, factsheets, and blogs. The council has also developed a specific website on the environmental aspects of corrugated boxes www.corrugatedboxescanada.org
Here are some interesting facts:
Most corrugated boxes made in Canada are 100% recycled content, made from old boxes collected from the back of factories and supermarkets or from curbside.
Even though high in recycled content, the original source for corrugated is trees, a renewable resource. Almost 1,000 new tree seedlings are planted somewhere in a forest in Canada every minute, ensuring that the harvest of Canada's forest resource is in balance with its regrowth.
Canada leads the world in sustainably managed forest. Over 40% of the world's sustainably managed forests are right here in Canada. All PPEC-member mills also have independent, third-party chain-of-custody certification that their raw material is responsibly sourced.
Some 96% of Canadians have access to the recycling of corrugated.
An estimated 85% is recovered for recycling nationally. Ontario's Blue Box system recovers 93% of the corrugated that ends up in Ontario homes.
Social:
Shipmasters' emphasis on sustainability has ensured that we stay on course in terms of our corporate social responsibility.
Economic: Social:
Our sustainable economic performance is entrenched within our daily performance. We govern ourselves to the highest standards while steadily growing the business in a sustainable way.

Servicing: Toronto (GTA) and communities in Southern Ontario including:
Ajax, Alliston, Ancaster, Aurora, Barrie, Beamsville, Belleville, Bolton, Bowmanville, Bradford, Brampton, Brantford, Brighton, Burlington, Caledon, Cambridge, Concord, Cobourg, Georgetown, Grimsby, Guelph, Halton Hills, Hamilton, Kawartha Lakes, Kitchener, Lindsay, Markham, Milton, Mississauga, Newmarket, Nobleton, Oshawa, Peterborough, Pickering, Port Hope, Port Perry, Richmond Hill, Scarborough, Schomberg, Stouffville, Trenton, Uxbridge, Vaughan, Waterloo, Whitby, Woodbridge
CONTACT:
Shipmaster Containers Limited
380 Esna Park Drive
Markham, Ontario Canada
L3R 1G5
Telephone 1: (416) 493 9193
Telephone 2: (905) 474 1556
© Copyright 2015 - Shipmaster Containers Ltd